Floral embroidery, butterfly mesh fabric, long red Qipao
---
Qipao Details:
Material: Butterfly mesh fabric
Thickness: Moderate thickness
Elasticity: Nonelastic
Feel: Drape, soft, comfortable, breathable
Occasions: Weddings, tea ceremonies, and special occasions
Size Chart: (scroll to the side for full chart)
The measurements in the size chart is based on clothes. Not your body measurements. So you will choose the size a little Larger (about 1") than your body size. If any part of your body especially busts or hips at the upper end of the size range then please choose the next larger size range.

If your measurements happen to be between two sizes, please choose the next bigger one.

Custom order guidance:

 This Qipao can be customized; however, if it is custom ordered, the Qipao is nonrefundable. Please write your dimensions, shoulder width, your height, and your ideal Qipao length (length from the base of your neck to your ideal hem position ) in the checkout instructions. (Please follow the measurement guide below if needed) 3-5 days lead-time.

  
Size
Bust
Waist
Hips
Dress Length
XS(inches)
31.50
24.80
32.28
55.12
XS(cm)
80.00
63.00
82.00
140.00
S(inches)
32.68
25.98
33.86
55.12
S(cm)
83.00
66.00
86.00
140.00
M(inches)
33.86
27.56
35.43
55.12
M(cm)
86.00
70.00
90.00
140.00
L(inches)
35.43
28.74
37.01
55.12
L(cm)
90.00
73.00
94.00
140.00
XL(inches)
36.61
29.92
37.80
55.12
XL(cm)
93.00
76.00
96.00
140.00
XXL(inches)
37.80
31.50
38.58
55.12
XXL(cm)
96.00
80.00
98.00
140.00
Please measure yourself and compare with our size chart under each item to find the right size for you.

How to Measure:

Take measurement around the fullest part.

Measure around the natural waistline. ( Find the natural crease by bending to one side).
3. HIPS

Feet together, measure around the fullest part.

Measure from one shoulder bone to the other across the back of your neck.

If you have trouble figuring out where your shoulder tips are, find anything you own that fits you well and has both a collar and a sleeve and measure its shoulder length.
If you need more help in choosing your size, please read: Size Guide

If you need tailoring service, please order: Tailor service
Here are Some tips for taking care of your beautiful Qipao dresses. 

For Regular Qipao dresses : 
If you don't have time to hand-wash your regular suede fabric, composite lace, velvet, satin, or artificial tea silk Qipao dresses,  then please place the regular Qipao into a thick mesh bag ( wash bag) before putting it in a washer. Please make sure the water is tap cold/cold then chose light wash. Finally, please air dry it.
  
For mulberry silk Qipao dresses : 
1)  Mulberry silk can't be washed with soap, washing powder, liquid detergent. Silk will fade when it encounters alkaline chemicals. Avoid soaking. Never use a hard brush or vigorously rub.  It is recommended to use shower gel and cold water to hand-wash, and rub gently. It is recommended to air dry. 


2) It is okay to dry-clean mulberry silk qipao too. 
  
For Cotton or Linen Qipao dresses / Tang suits:  
1)  If you don't have time to hand-wash your cotton and linen Qipao or Tang suits,  please place them into thick mesh bags ( wash bags ) before putting it in a washer. It is highly recommended to use tap cold/cold water to wash cotton and linen material items. Avoid prolonged soaking. Never use a hard brush or vigorously rub. Use bleach-free detergent to avoid fading.  It is recommended to air dry. 


2) It is okay to dry-clean cotton and linen qipao too. 
  
Finally, please make sure to divide the qipao into deep and light colors and wash it separately.

 
The feeling of a Qipao is dignified, elegant, rich, swaying and full of style. The image of Shanghai women wearing Qipao in the last century has been deeply imprinted in the memory of countless women who pursued elegance, nobility and fashion.
Email: Support@bethandbrianqipao.com

24/7 Email Support, we'll get back to you as soon as we can!

Text Support : +1(518)412-2170  

Sun-Fri: 10:00 am - 10:00 pm (Hawaii Time zone)

Instagram: bethandbrianqipao

Facebook: bethandbrianqipao2020
Customer Reviews
Good quality Chinese dress
The experience has been great and am very impressed with the quality of the dress I ordered.
05/26/2022
Jocelyn F.

United States
Custom fit was perfect
Beth & Brian were very quick to respond via text message. I had asked if the sleeve on the qipao could be customized to a short sleeve rather than the in-between length as shown in the photo on the model. They told me that the factory said yes it could be done and I sent all the proper measurements with more detail than asked for because my sister works in fashion and knew what ito provide for best fit. When I received the dress (about 3 weeks after I placed my order) I was disappointed to see that the sleeve was not customized to be a shorter sleeve as requested. However, the fit of the dress overall was impeccable. It fit me so well, like a glove but lots of room to move and sit/ eat with ease. I let them know about the sleeve and they offered a 10% discount as a refund. I'll have to look for a local tailor or ask my sister to help alter the sleeves shorter to my liking but overall I'm very satisfied with the customer service and custom fit of the qipao. Can't wait to wear it for our wedding banquet!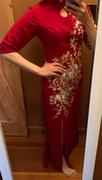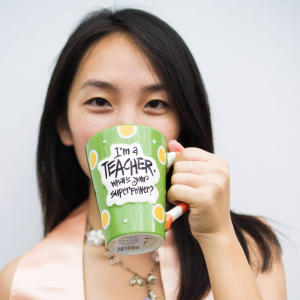 YO
12/08/2021
Yvonne O.

United States
Decent for a ready to wear qipao
I wasn't able to physically go to China to get a custom made qipao this year so I settled with buying from this site. The material quality is ok. The fabric is a bit stiff, and the embroidery mesh is visible and overlapping. I'm a very petite person (5'1, 100 lbs), so I combed through the website and this was the smallest measurement I could find in the color and length I wanted. I still had to get it significantly altered to fit me properly.